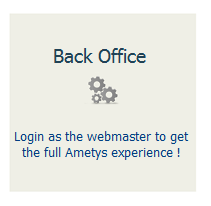 WELCOME
Build a great event website with Ametys CMS
The Conference is the must attend of 2014.

If you're an innovator, you'll want to be here !

Join us for the first ever Ametys Show: Avril 28-2, 2014

Don't miss the opportunity to join the community, hundred of web professionals.

The Conference is coming....
This site allows you to produce a great event website using Ametys.
Feel free to contact us for an online demonstration.
For more information, visit our website : www.ametys.org
Latest Seminars
RESPONSIVE WEB DESIGN TRACK

The April 29, 2015

In this session, Walton shares the insights he and his company have gained by changing to responsive design.

SEO TRACK

The May 13, 2015

Want to learn about search engine optimization, search engine marketing, or internet marketing?
Don't miss SEO track, the advanced SEO & Online marketing conference.

SOCIAL MEDIA TRACK

The April 13, 2015

This conference will bring together experts, leaders and professionals passionate about the conversation made possible by social media channels.
New Sponsors
A new Gold Sponsor : Smart Tech

The March 30, 2015

We are glad to welcome Smart Tech as our new Gold Sponsor.

New Gold Sponsor : Hans Foundation

The March 16, 2015

We are glad to welcome Hans Foundation as our new Gold Sponsor of the Conference.

Virtucon, Gold Sponsor at The Conference

The April 6, 2015

We are glad to welcome Virtucon as our new Gold Sponsor.